Frances E. Kendall, Ph.D.


Frances E. Kendall, Ph.D., is a nationally known consultant who has focused for more than thirty-five years on organizational change, diversity, and white privilege. Author of Diversity in the Classroom and Understanding White Privilege: Creating Pathways to Authentic Relationships Across Race, Kendall was recently named a "Pioneer of Diversity" by Profiles in Diversity Journal and a "Legend of Diversity" by the International Society of Diversity and Inclusion Professionals.

Because she believes that personal and organizational change is possible, Kendall is committed to facilitating the core changes necessary to create work and learning environments that are hospitable to all people.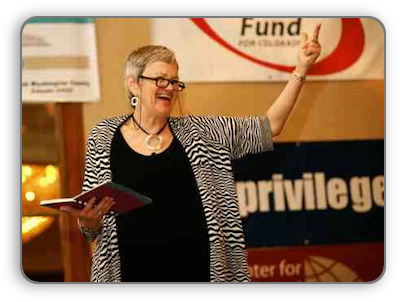 She doesn't skirt the deeper challenges inherent in helping organizations accomplish that mission, yet she approaches the conversations with warmth and humor in an accessible and approachable manner. One of her long-time clients recently described her style as that of a "seasoned warrior, bringing her experience and wisdom to her interactions with audiences and workshop participants."


Kendall tailors all of her work to meet the needs of individual clients, which include educational institutions-colleges, universities, and K-12 schools-corporations, and not-for-profits. In the last ten years, she has focused her work on offering workshops and delivering keynote addresses on facilitating and creating intentional organizational change, addressing issues of diversity in organizations, and aiding white people in understanding the impact of their skin color in systemically providing opportunities and privileges not granted to others.


A few of her most recent workshops and speeches include:
"Passing the Mantle: Calling Forth and Mentoring the Next Generation of Change Agents"


"Leading as a Person with Privilege: Developing the Ability to Address Privilege and Inequity in Groups and Organizations"


"My People, My People: The Role of White Women in Maintaining the Supremacy of Whiteness"


"Creating Pathways to Authentic Relationships Across Race"


"Be Careful What You Ask For: Creating a Genuinely Diverse Institution Will Probably Require Changing the Landscape"


"Assessing Your Organization's Readiness for Change"


"The Art and Practice of Cultural Humility"
In addition to speaking and facilitating workshops, Kendall consults with institution's senior leaders, implements climate surveys for their institutions and organizations, and assists them in developing strategic plans and initiatives to achieve the type of institutions they envision.


Kendall received her M.S. from Bank Street College of Education and her Ph.D. from the University of North Carolina at Chapel Hill.